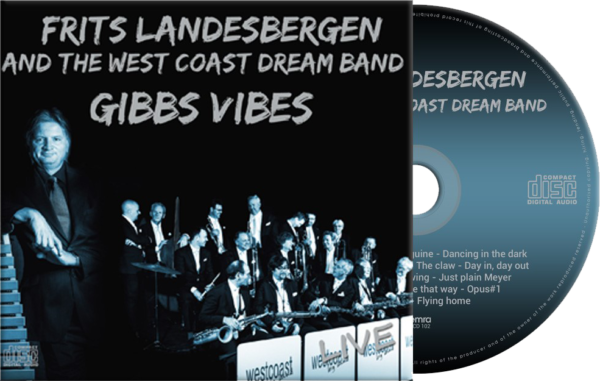 Gibbs Vibes
€15,00 – €17,50
Frits Landesbergen together with the West Coast Big Band tributing the legendary music of Terry Gibbs & the Dream Band.
14 great tunes played and recorded live in Rotterdam.
Mister Terry Gibbs himself is monitoring this project and commented on a preview some time ago.
Happy, enthousiastic, swinging live Big Band music.
'GIBBS VIBES'
Description
Dir: Nils Van Haften.
Saxes: Louis Sloot, Els Voorhoeve, Hans Goemans, Johan Ehrlich, Frank Groenendijk.
Trombones:  Jelle Post, janco blanken, Joop Meijlink, Gert Bloemen .
Trumpets: Erika Klap, Erik Hilferink, Kees Kamphuis, Nanouck Brassers, Ronald Kappert .
Rythmsection: Willem Van Wijngaarden, Terry Knight, Raul Santana.
Recording date 1,2-10-2018
Recording engineer: Nanouck Brassers
Mixed at: NMP The Hague by Frits Landesbergen and Nanouck Brassers
Thanks to: Marcel Wijngaards And Crew Walhalla Theater.
Design: Bert Baai
Photo's: Ronald Speijer
Produced by Exclusive Sessions Productions,
Frits Landesbergen is endorsed by Ludwig/Musser percussion instruments and Istanbul Cymbals.
This CD is a Tribute to the great Terry Gibbs and His Legendary Dreamband